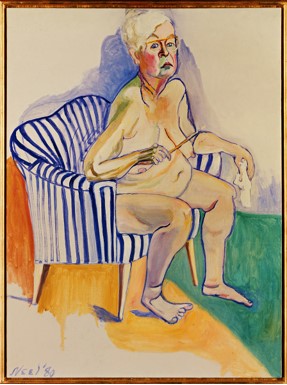 Knock! Knock!
"Who's there?"
"It's the FBI!"
"Oh, my goodness! Come right in. I've never painted an FBI agent! Will you pose for me...in the nude?" So goes the story that became legend about Alice Neel, one of the great American painters of the 20th century and a pioneer among women artists.
Art historian Janet Mandel will be telling more next week in her class, "Alice Neel: Portraits, Politics, and Power," at the South Orange-Maplewood Adult School (May 17, Black Box Theatre, Columbia High School).
There's plenty to tell. "Alice had a lot of skeletons in her closet. She was stalked by the FBI for years because she was a Communist," Janet explains. Not an active Party member, however; "she felt her art expressed her politics."
Consider her politically 'incorrect' subjects. Neel is rightly called a "painter of people" (not including FBI agents in the nude -- "They left her alone after that," Janet reports.)
Living in poverty in Harlem for some 25 years, Alice was the original 'People' magazine, as Janet describes her range of subjects. Waifs and poets (Allen Ginsberg), artists (Andy Warhol). other friends and Harlem neighbors came in to sit for portraits she painted "without sermon or sentimentality," as one critic wrote of an Alice Neel exhibit in l951. "At times, an element of foreboding, akin to that in the work of Munch, creeps into her work, and there are portraits that are almost vivisections."
Neel "vivisected" the critics, too, painting such well-knowns as Meyer Shapiro, the Columbia University professor whose lectures drew the contemporary crowd, including Willem de Kooning, Robert Motherwell, and George Segal.
Another sitter was acclaimed art critic Linda Nochlin, whose l971 essay, "Why Have There Been No Great Women Artists?" is generally considered the first major work of feminist art history. But Alice Neel was no feminist, Janet hastens to add. "In fact, she said she didn't even like women very much."
Typically Alice. "She took no prisoners. She would be right at home in the world of 2018," Janet believes. "She'd be out there today, protesting Donald Trump and defending Michelle Wolf's speech (at the White House Correspondents' Dinner).
"Alice took her own path. When Abstract Expressionism came in vogue, she kept right on painting her way. 'Artistic suicide,' a critic of the time said. So she was poor most of her life. She didn't start making money until the l970s" (after her portrait of feminist Kate Millett was on a Time magazine cover. Neel later painted FDR for another Time cover, drew commissions for the likes of Mayor Ed Koch, and appeared twice on the Johnny Carson Show).
Alice Neel died at 84 in l984. But her reputation continues to build, Janet points out. Today's U-Tube fans can still catch the Beat classic film "Pull My Daisy," featuring Alice with the likes of Allen Ginsberg, Jack Karouac, and Larry Rivers. And fans with moderately deep pockets can own actually own an Alice Neel master painting, Janet reports. And sighs slightly, "For just $1 or 2 million."
###
SMARTEN UP @ The Adult School
For News-Record, May 9, 2018
Rose Bennett Gilbert